When designing your pool and patio, there are many ways to incorporate natural stone. Since it's durable and waterproof, natural stone is one low-maintenance building material that is meant for summer fun. These natural stone features make a case for the impact they can make on any backyard oasis.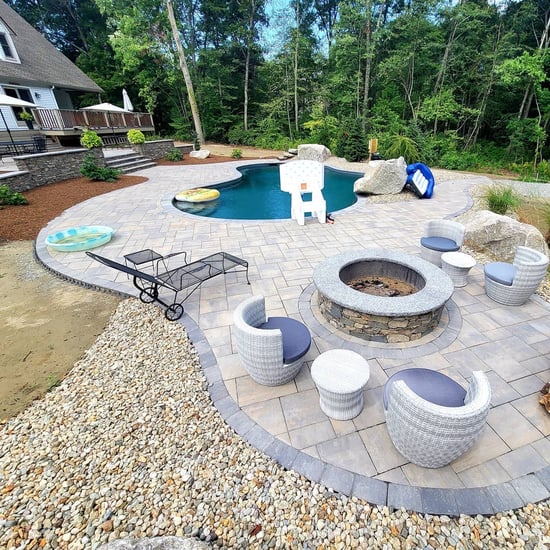 New Pool and Patio Design with Fieldstone Dark Ledge Firepit and Accent Wall
Fire Pit
A fire pit makes a great addition to a patio and pool, transforming it into a recreation area with multiple focal points. It offers an inviting place to sit and relax while spending time with family and friends, in between time in the pool. A fire pit also extends the outdoor living season by offering a place to gather and warm up on cooler nights. At this home in Dighton, Massachusetts, the homeowners used Fieldstone Dark Ledge from Landscape Depot Supply (to match the accent wall towards the home) for a distinctive look that blends with the rest of the backyard.
Spillover Spas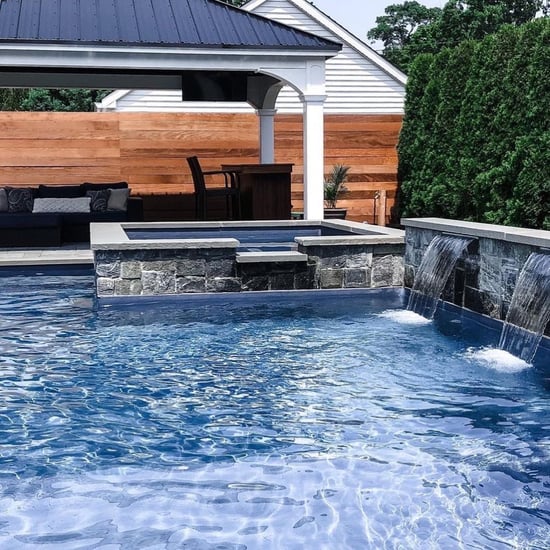 Pool Design with Natural Stone Veneer Accents
An outdoor spa or hot tub is a perfect complement to a pool, as an original design or an addition. The proximity between the pool and spa offers a more inclusive relaxation and social experience, while still having enough separation. This is especially helpful for families when supervising children, or during larger parties where guests can enjoy their favorite spots and still be together. The spill-over spa, like a fire pit, also helps extend the season into late summer and early fall nights. These homeowners in Long Island tied this pool, spa, and accent wall in with the rest of their landscape design using Black Ash Roughly Squares & Rectangles.
Dive Rock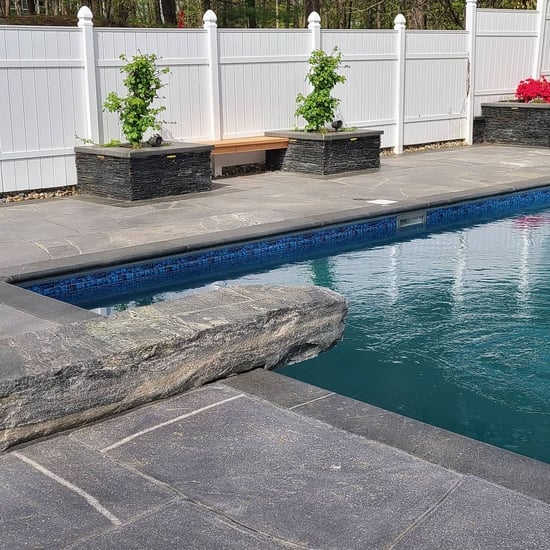 Pool Design with Natural Stone Split Dive Rock
In addition to the look, feel, and durability of natural stone, a dive rock is also a conversation piece. Adding a dive rock connects your pool setup with nature, and your selection is likely to be more visually appealing (and slip-resistant) than a typical diving board. It can be shaped to a specific size or selected naturally, with live edges. This dive rock was installed by Exterior Services (CT) in the Black Ash Collection, to complement the Fitzwilliam Flagstone used around the pool.
Natural stone is available in a variety of shapes, sizes, and colors to easily coordinate with existing features and new designs. Whether building a new pool and patio or upgrading your current setup to accommodate changing needs, your investment will help build a fitting and functional outdoor oasis for years of fun and memories with family and friends.