The home and landscape design industry has always been fueled by innovation. Innovations turned trends are what drive the industry and this featured project is a testament to that. Drawing inspiration from the popular use of monochromatic colors in home design while also cohesively tying the property together using natural stone this featured project was created.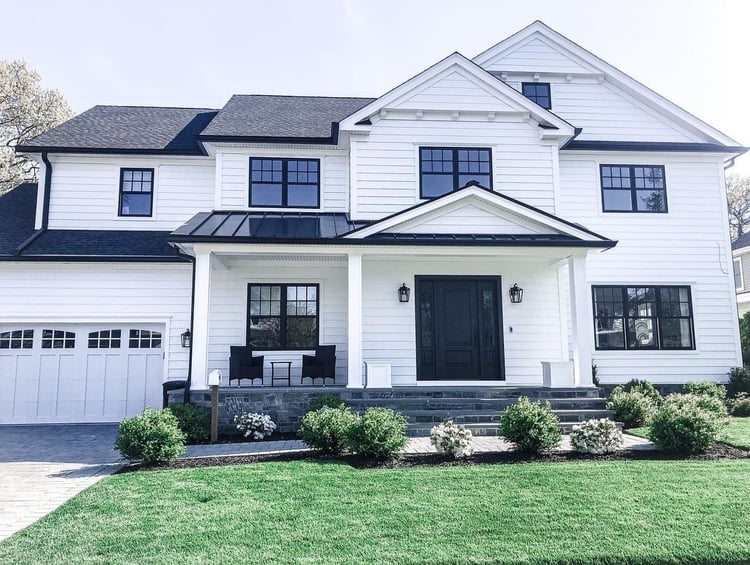 Long Island Home (Front) Designed By Michelle Foley
The saying home is where the heart is means so much more when you're designing your own home. Every square foot of this home design was meticulously planned out by the homeowner and design enthusiast Michelle Foley. Michelle also made a guest appearance on our blog sharing tips that helped her choose the right stone veneer for her home. At first glance, this home exemplifies modern design. The white siding and dark accents create a sharp color contrast paired with our favorite part of this design... the use of Black Ash Squares and Rectangles for the step risers and home foundation. We often discuss how the use of natural stone in any capacity of home design can make a positive impact and this home is a testament to that.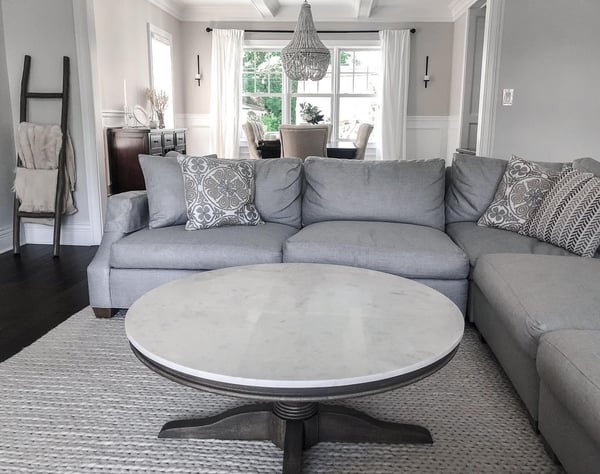 Interior Living Area & Dining Room
Starting a property design from scratch is a lot of work but it allows for something that not all projects are able to create: cohesiveness. It is clear from watching this home build come to life on the Rockville Centre Build Instagram that aspects throughout the exterior, interior, and landscape design were carefully planned to correspond with each other.
The Landscape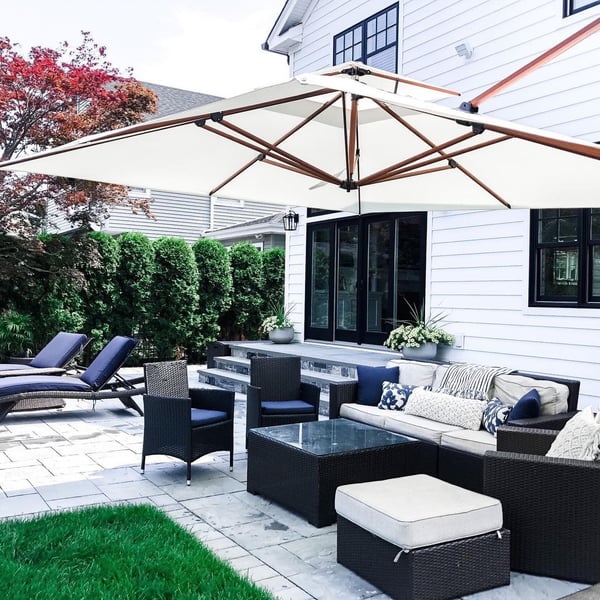 Home Exterior (Back) and Outdoor Living Space
One of the biggest factors in creating a stunning landscape design like this is utilizing the space you have. This outdoor space includes two seating areas, one under a gazebo that includes the bar and TV, a pool, spa, and little wasted space. Also functional for any gathering whether hosting friends, spending time with the family, or a full-blown event. Again the cohesiveness of this project is on display with the subtle but impactful use of stone. The back steps mirror the front of the home while the stone on the pool accent wall and spa tie the whole property together.
Pool, Spa, Accent Wall and Second Outdoor Living Area
Overall this project is an excellent example of how a natural stone (or another building material) can help tie a home & landscape design project together regardless of the capacity it's used in. This Long Island home is a testament to the power of cohesiveness and a wonderful example of modern home design.