Waterside living evokes a special connection with nature and peaceful feelings–and natural stone is one building material that can enhance this experience. Homeowners are spending more time at home and continue investing in their outdoor living projects, maximizing the value of waterfront property and enhancing the quality of life through built-in leisure. Whether lakeside or oceanside, the natural stone designs featured in these projects create an incredible atmosphere to enjoy throughout the seasons, and they are sure to inspire waterfront living projects all year round.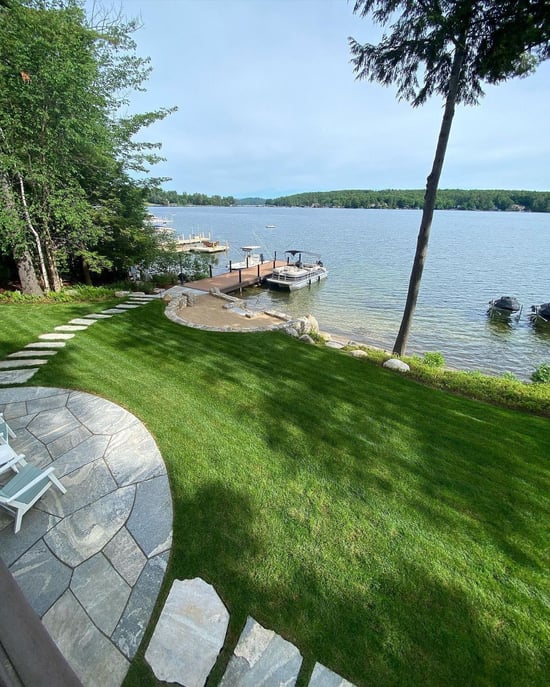 Stone provided by The Rockshop at New Hampshire Thinstone with design by Stephens Landscaping.
These New Hampshire homeowners turned their backyard into the ultimate outdoor living destination with a retaining wall by the lake, and a flagstone walkway and patio, which coordinates seamlessly with the dock area. This project features a Liberty Hill Flagstone walkway from one end of the property to the other, which showcases the beauty and color range of the stone. Whether sitting and relaxing, admiring the view, or setting sail on an adventure (and enjoying the view from the other direction) this backyard is all about making the most of lakeside living and leisure.
Stone provided by Gagne & Son, and the entire project was crafted by Matt Brannon Masonry.
Especially during the summer season, there's nothing better than an outdoor living space that incorporates waterfront views from the pool! This Maine homeowner built the ultimate backyard space by combining natural stone (in various layouts) including
American Mist
Mosaic Thinstone.
Spectacular ocean views, waterfalls, and perfectly placed seating create the perfect setting to admire it all.
Even when the pool is not in season, the landscaping and design leave much to be enjoyed even in cooler months, while dreaming of warm, sunny days spent in the company of family and friends.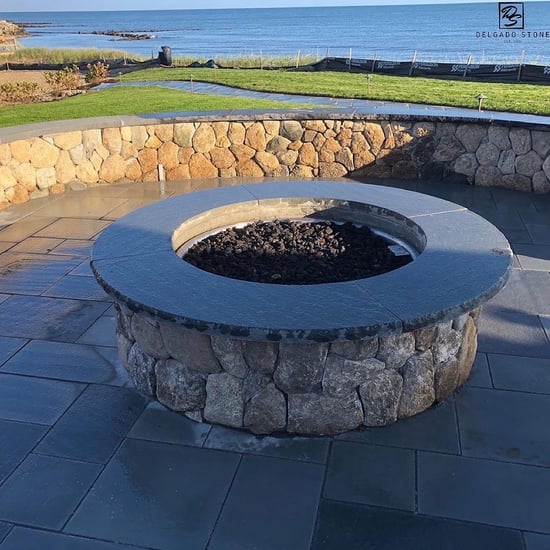 Designed by Cranberry Landscape with materials provided by Stonewood Products
Fireplaces and fire pits are among our favorite projects to feature, and this one along the shores of Cape Cod is no exception! The view from this backyard living space speaks for itself, and the outdoor fireplace design and stone wall featuring Old New England Rounds enhances that natural northeastern beachside charm. This space is perfectly suited and has ample space for gathering and socializing, and the homeowners are sure to enjoy many magical, memorable nights regardless of the season.
For more inspiration for your next home improvement project, download our catalog.