When it comes to picking materials for a remodeling project the options are seemingly endless. A quick walk down the aisle at a big box retailer or even your local mason supply yard will present hundreds of options. As a manufacturer and distributor with retail partners, we always want to know why someone chooses a specific brand. This recent Home Improvement Research Institute (HIRI) survey sheds some light on how buyers are making their decisions.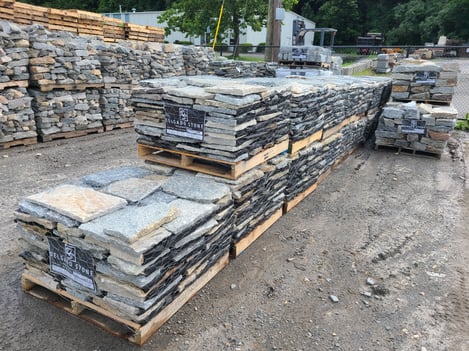 Availability of material is one reason for choosing a brand
The global supply chain issues have caused buyers to make changes in material selection but it has not been enough to catapult availability to the primary reason for making a purchase. What is number one? Quality.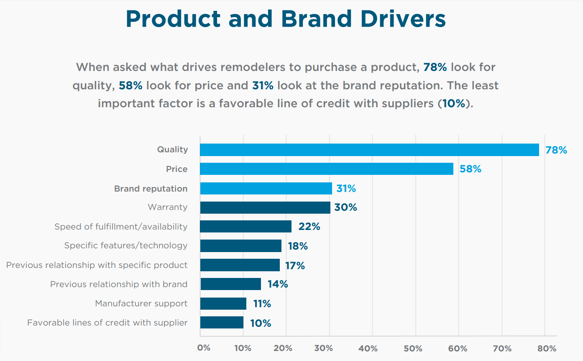 Quality is the top reason remodelers purchase a product (Source: HIRI)
When choosing a product for their upcoming project 78% of remodelers said quality was the most important factor followed by price (58%) and brand reputation (31%). The speed and availability of products was in the top five reasons for making a purchasing decision at 22%.
Other Factors in Buyer Decisions
Understanding the importance of quality in the buyers' decision is important but what sources are they using to find new materials? While many rely on relationships with colleagues, retailers, and distributors, the top source is their own online research as more than half (56%) turn to websites and social media to find material. The shift to digital is a growing trend that has been accelerated by the COVID-19 Pandemic and forced many in our industry to invest in their digital presence.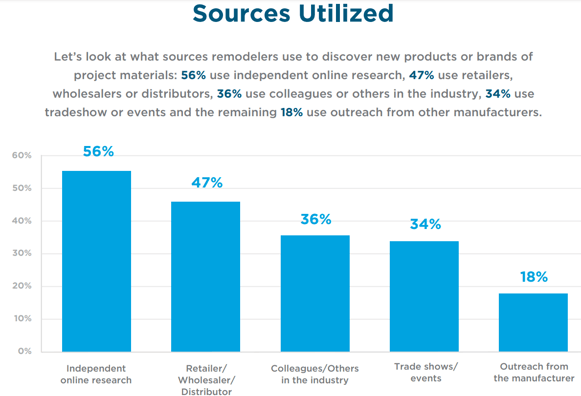 You can read the HIRI article here or click here to download the infographic.