As we head into the 2018 Spring market our educational quest continues. This post features some of the best resources for contractors. Contractors and masons are in an extremely competitive market and while materials, gas, labor, and insurance can be costly, there are tools and resources that can help contractors stay competitive.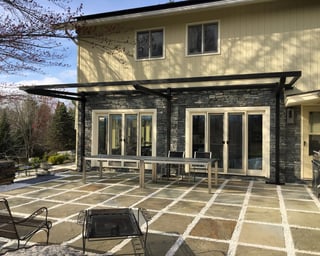 American Mist Ledgestone Patio
The Best Resources for Contractors
Unlike previous articles I thought it would be best to have other people share the resources they thought would be helpful. It would have been nice to use all of the resources people shared with us but the article would have been too long. Here are some of the best contributions we received:
Mobile Apps
"One of the hardest parts about being a contractor is coming to an agreement about exactly what the application should look like", said Neel Somani, the Director of Outreach at Cal Blueprint. His solution? Prototyping. "I use two tools for rapid prototyping. One is called Invision, and the other is called Flinto".
Change Your Perspective
Monica D. Higgins, author of Remodel Success: Home Remodeling Done Right, On Time and On Budget, shared some great insight from the homeowners perspective: "The most common first step (or should I say misstep) many homeowners make once they've made the decision to remodel their home is calling a contractor for a bid, well before they're 'contractor-ready'."
Contractors (and business owners in general) don't often put themselves in the shoes of their customer. If you're a contractor you should give this book a read so you can better serve your client, do a great job, and earn more referral business. Connect with Monica on Twitter or visit her website…. Did you know she was on The Love Connection two times?!
Save Money & Time
Two things we all need more of: Money and Time. When I was introduced to Everlance I realized this is an app that helps with both (especially during tax season). It's clear that contractors are taking notice of Everlance according to Co-Founder & CEO Alex Marlantes:
"We passed the 300,000 customer milestone recently, and an increasing number of those users are contractors. The app usage is split between people who want a really easy-to-use solution for documenting expenses for taxes (such as an independent contractor or subcontractor) vs. those who want to use the technology to manage employee reimbursements or even generate invoices for clients. I think people get really excited by the fact that they have an actual GPS map and all the work is done for them. Everlance automatically populates trips and transactions from your credit card into the app and then it's as simple as swiping the transaction "cards" to the left if personal to right if for work. It's that simple. No more spreadsheets or paperwork."
Contractors and masons spend a lot of time driving from job to job Everlance can relieve some of the extra paperwork they need to do at the end of the day.
Go Green
LEED projects and "Green" initiatives are all the rage right now. Green Badger is software for contractors working on these types of projects and has an excellent knowledge-base for anyone looking to learn more about LEED Construction. With desktop and mobile apps it can be used while at home, in the office, or on the job.
Which one of these resources for contractors do you think is the best? Leave a comment or share your favorite resource. Interested in resources for architects?