The last three years have helped us focus on the most important things in our lives, and the outdoor living trends in the home improvement industry are definitely a reflection of this. The renewed value of in-person gatherings with family and friends, and investing more resources into creating ideal home spaces has been a challenge and an opportunity for masons, contractors, and builders. We talked about these unique times with Mark Arsenault, owner, salesman, estimator, and manager for Green Monster Landscapes in New Hampshire, who has been in the industry for 20 years. Mark's company specializes in hardscape design, stone masonry, landscape construction, planting, irrigation, and lighting.
Mark had recently rebranded his business and resumed sole ownership when the pandemic began. When asked what trends he thought we might see in the year ahead, he predicted that the outdoor living trend "still has some legs," and explained that what his customers are looking for now goes beyond basic features like patios and walkways. "They're wanting the next level elements: seat walls, fire features, built-in grills, and the things that turn the landscape into an outdoor living space." And Mark, who said his favorite part of his job is the field work, is excited to put his creativity to work on-site alongside his team.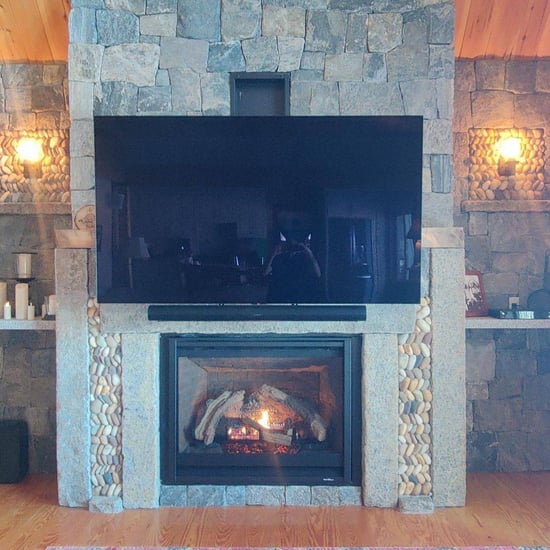 Liberty Hill Roughly Square & Rectangle fireplace from the Balch Lake project by Green Monster Landscapes
One of Mark's favorite recent projects is his team's Balch Lake project, which he describes as a "full stone project," includes exterior walls, patios, and pathways. "We also built an inside fireplace inspired by the style and elements of the outside features." He's also proud that when the project called for planting, low-voltage lighting, and irrigation, his team was also equipped to complete these elements in-house, as a complete design-build company.
Like other contractors in the industry, Mark admitted it can be tough "finding qualified help to support the amount of work we want to do and at the level of quality at which we want to do it." But he's also learned over the years how to keep a project running smoothly. "Don't take on more work than you can handle," he said, and be honest with customers about how far out you are booked." He shared how this approach allows him to focus on the current job 100%, and to stay realistic about factors and timing involved. "Some people aren't willing to wait, but the ones who are, are the ones you want to work with."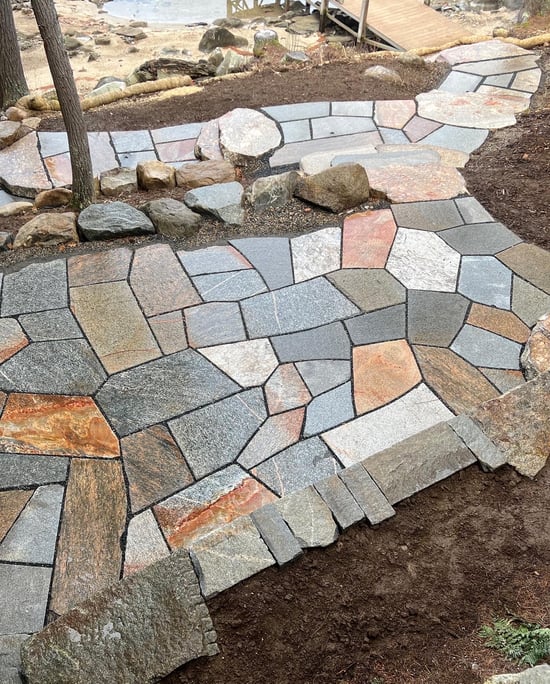 Old New England Wall Flagstone installed by Green Monster Landscapes
When asked how materials impact a project, Mark said he's learned how time-consuming it can be to make adjustments to materials on-site once the job is underway. He said he likes using the Delgado Stone flagging when needing "a material that helps us produce high-quality installations." He explained, "The consistent gauge of the material allows us to level out a laying bed, and then cut and set without individual adjustments to each stone."
We appreciate Mark taking the time to talk with us about Green Monster Landscapes, and cannot wait to see what projects they design and bring to life next! To learn more about Green Monster Landscapes, visit their website or find them on Instagram! You can also reach them by phone at (603) 387-7885. For more landscape architecture inspiration, download our Landscape and Saw Shop Products Guide.