There are many challenges that come with choosing the perfect stone veneer when it's one of your design elements. For me, there is a great deal of stress associated with choosing stone because it's not something you can easily change after the decision has been made and the stone has been laid. Whether you're starting from scratch with a new build, or picking a stone that needs to match an existing space, the process can be stressful either way. After recently completing our home I was excited to share my experience and tips to help you select the stone for your project!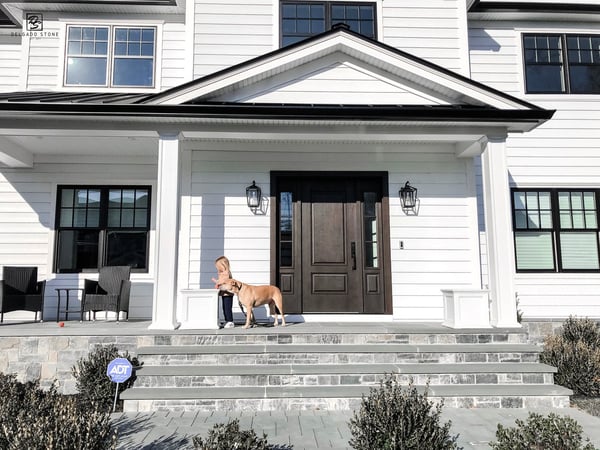 Welcome Home! Picture of the Front Porch After The Move In
Start With Social Media - take the time to research different styles and hone in on the overall look that you like first. I used almost of them but spent more time on Houzz, Pinterest, Instagram

(

@rockvillecentrebuild

),

to find inspiration pictures of the space that you're working on and pay attention to the types of stones that others have used. A few good hashtags to start with are #stonework, #stonemasonry, #exteriorstone, and #interiorstone. You may end up with just a general inspiration picture to run with, but if you're lucky and find a stone that you love, most of the time anyone posting the content will be more than willing to share with you where they got their stone from- or better yet if they have a blog they may have already shared the details there.
Ask for recommendations from people who know. I.E. a builder you're working with, the mason that will be laying your stone, or just a friend or neighbor who has recently had stone work done to their house. Ask them about the quality of product but most importantly their customer service experience! This is always important, but even more so when you're working on a large project. We just finished the design and build of our brand new 3700sq ft. house and when you have that many decisions to make and suppliers to work with, any bad experience or delay in receiving your materials can throw so many things off. The Back Entry Steps; Bluestone with Black Ash Risers
Go to showrooms or stone yards so you can see some stone in person and get an idea of what you actually like and don't like. Sometimes pictures can be deceiving so seeing something in person before ordering it is essential. If you weren't able to get any recommendations for places to go in person you can easily just do an internet search for stone yards or stone retailers near you and you should find some options. Also make sure to pay attention to the reviews online- if a business has numerous reviews saying they were a pain in the butt to work with, you might want to listen.
Share your inspirational photos with the employees at the stone yard and ask them for something that looks similar pr can help you achieve the same overall look. If the person you're talking to is not really understanding the overall look that you're looking to achieve or says anything discouraging like "you won't find anything like that around here, why not try something like this..." Don't get discouraged and just go elsewhere! I live in Long Island, but with being from Vermont I have New England style, and so I wanted a stone that you don't see everywhere around where we live. I literally had someone tell me not to do what I wanted, because it wouldn't fit with the rest of the area… I left immediately and called Delgado Stone in CT ;)
In all seriousness, don't be afraid to work with a company that is not near your home. With past projects we've just dealt with suppliers by us because it was seemingly easier, but this time around there was no way I was going to settle and I was having the hardest time finding anything that I liked, let alone loved. I thought it was going to be a pain in the butt to go with a supplier that was not local, but luckily my experience was most certainly not as complicated as I made it out to be in my head. After a few conversations and emails with the guys from Delgado Stone I felt very confident that they understood the overall look that I wanted to achieve and they were more than happy to send me plenty of samples so that I could see the stone in person without having to travel. They had several dealers in our area which allowed us to have the support of a local stone yard and still order stone that wasn't being manufactured right near us. So if you're able to find something you love, and work with someone who delivers a great customer experience, you can go to the brand you want and allow them to guide you to someone they work with in your area.
The more details and information you can share the better. Keep in mind that pictures online, and even small space samples in person, can be deceiving. Stone yards and suppliers know the products better than anyone and likely have seen it on a large scale. This is why it's so important to trust who you're working with because you will likely have to take their word on some things. I was between a few different stone choices, but after talking with the Delgado team, they were able to help me narrow down my options to just one. To further help me achieve the look I wanted they recommended a specific cut of the stone that I liked that allowed for the colors I was looking for to be the most prominent. So the more specific you are about what you want, the more they can help to make sure you're getting exactly what you want. And remember what they say about ass-uming things! People can't read your mind, so don't assume that because you said you liked the "black ash" stone that they know you want a predominantly dark colored stone… you could be looking for more of the gray tones over the black tones and so whatever it is that you specifically like about the stone, it is helpful to share that with them.
Order samples so you can see it in your space. I can't stress this enough! Things look different in different environments and it's so important that you see the stone where it's going to be permanently placed. Anytime we've had to decide on materials we've always made a point to keep our samples out and in front of us for a week or so before making our decision so that you can see it in all the different lights and make sure that you don't get sick of it! Again samples can look different on a large scale so if possible you can always ask if it has been used anywhere locally to you so that you can try to go see it in person. I've ruled out quite a few stones by seeing them on a large scale outside of people's houses while I creepily drive by… and that's ok! Again, the more research the better. But if you're not able to see it in person on a large scale, I'm going to emphasize again that you will have to really trust the people from the company you're working with, because it truly is so important to know that they understand the look you're trying to achieve.
Set realistic expectations. When you've finally picked the stone for your space, make sure to tell the supplier right away and let them know when you'll need it by. That way they'll be able to tell you what time frame they're working in and you can make sure everything is lining up with your project. Even if you're a planner like me, and your project is still several months out, you might think you have all the time in the world but you just never know. Things can get back ordered or delayed and it's just always better to get ahead of the ordering process!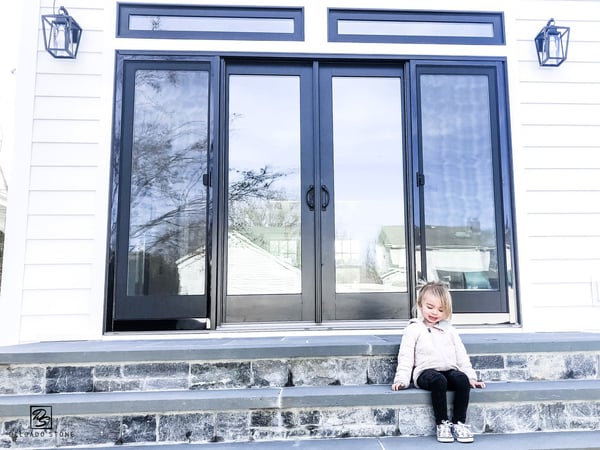 Our New Home in Rockville Centre, NY
And that's really it! I think with any big decisions a little nervousness and doubt of your choices is common when waiting for everything to be finished. So to help put your mind at ease just make sure you do your research justice and don't let people rush you or make you jump to any quick decisions that you're not ready to make. Stick to your guns and you'll be fine!
______________________________________________
About The Contributor
Michelle Foley is a design enthusiast and consultant from Vermont who recently completed the design and build of her families new home in Rockville Centre, NY. She took the opportunity to share her journey on the website Rockville Center Build and via Instagram as well as through guest contribution opportunities