The AIA recently published their Home Design Trends Survey results for Q2 2018, one of four studies they will release this year. These studies provide great insight into market trends and can help architects, masons, and contractors plan for the future.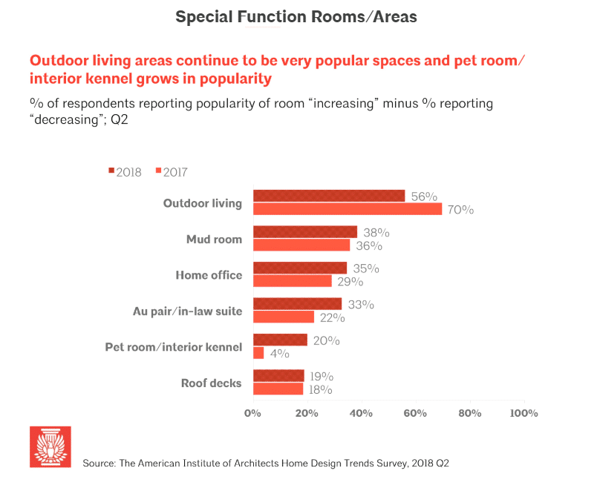 Special Function Spaces Are A Growing Trend
As the resident data geek here I would love to write about this all day but I know how valuable your time is so I'll try to be brief. Here are a few trends that caught our attention:
Pet & Interior Kennel Spaces: It's no secret, people spend money on their pets and this trend stood out to me the most. In 2018 20% of survey participants mentioned this trend, up 16% from 2017. As we see an increase in "Doggy Day Cares" and "Pet Spas" we can understand how an investment in a space at home for your pet could be more cost effective than alternatives. If nothing else, it's a great way to spoil your pet a little more.
Home Offices: As more people work remotely or spend time before/after work catching up it's likely this trend will grow. Generations ago it was a "Study", now we call it a home office. The size of the space doesn't matter as long as you can use it to get your work done. I enjoy seeing what people do to make this their own and be more productive, it often allows for their own character to come out. This year 35% mentioned it as important, up 6% from 2017.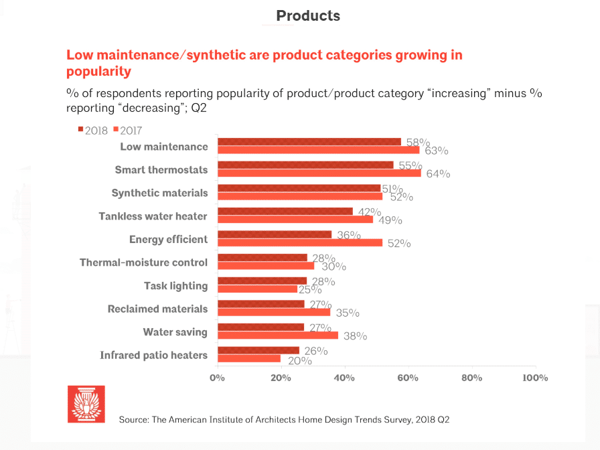 Patio Heaters Allow For More Time Outside
Spending Time Outside: Infrared patio heaters and roof decks increased in popularity which is inline with the growing trend in homeowners investing in outdoor spaces. Although down from 2017, 56% of the participants were still spending on outdoor living. The trend in spending more time outside continues to grow as outdoor fire pits, fireplaces, pizza ovens, and kitchens become a staple.
Synthetic & Reclaimed Decrease: It's no surprise to see a trend in synthetic materials decrease as more people focus on the environment and longevity. It won't surprise us to see this trend continue going foward I was surprised to see the usage of reclaimed materials decreasing (-8%) but with an increase in contemporary and modern design it makes sense.
Tech Friendly Homes: People want life to be easy and integrate seamlessly. Smart homes that include lighting controls, thermostats, cameras, and other household functions are growing in popularity and will continue to do so. Our dream of the robot butler (made of stone of course) is not too far away.
It's interesting to see what the trends are this year and what we can expect going forward. Did any of the results surprise you? Leave a comment!
Click here for the AIA Survey Results