Outdoor living spaces are one of the most popular investments homeowners are making in 2021. According to a recent Forbes article, outdoor kitchens will be the most popular outdoor upgrade while others will focus on their patio or deck.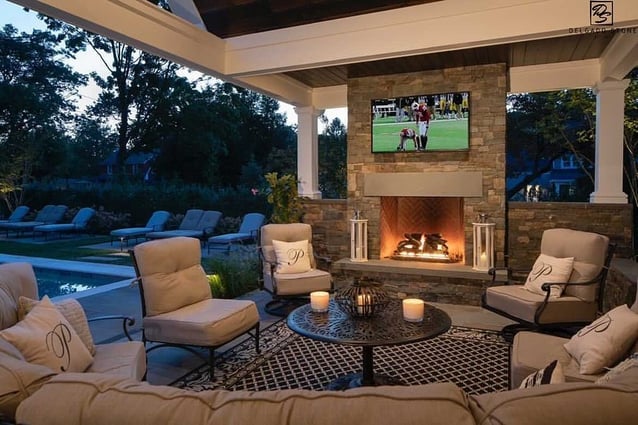 Fieldstone Dark Ashlar Fireplace by Beechwood Landscape (NJ)
The spike in these home renovation projects has been attributed to the impact COVID-19 has had across the globe. People are spending more time at home and investing in the outdoor spaces they have available to them. There is also a shortage on the availability (inventory) of homes on the market so less people are moving. It's because of this they are investing in the space they plan to be in for a longer period of time.
Outdoor Living Spaces & Natural Stone
There are many reasons someone might choose natural stone for their outdoor project. Everything from cost and durability, to using something unique and sustainable. No matter the reason you choose natural stone, we want highlight some easy ways to add it to your project.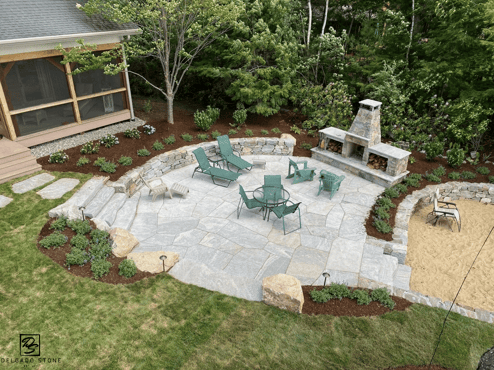 Liberty Hill Granite Flagstone Patio (Stephens Landscaping)
1. Patio: I'll start here because it's the most obvious choice. The foundation of your outdoor living space has countless options but more people look to natural stone because of the durability. A hard granite flagstone or paver that is installed properly is built to last. It's available in a variety of colors, shapes, and sizes so it can work with almost any project.
2. Outdoor Kitchen: An outdoor kitchen can mean different things to different people but no matter how you plan on cooking outside you can use natural stone. A common application is a natural stone countertop or cap on a fire pit. If your project doesn't call for either of those thin stone veneer is an excellent option to bring your project to life and make it unique.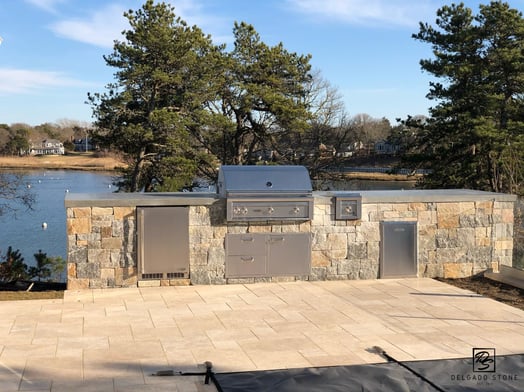 CT Blend Outdoor Kitchen by Executive Landscaping Inc (@executivelandscaping)
3. Stone Steps: If you have an elevation change, even a slight one, natural stone steps are a great way to use a little stone. We have seen some projects use one or two steps to an elevated surface and others use several dozen for serious elevation changes. No matter how many steps you need it's a great way to add something unique and durable to your outdoor project.
4. Pool Coping: If you're lucky enough to have a pool or plan on installing one, pool coping is a great way to incorporate natural stone. There are countless options when it comes to color, style, and thickness so you should be able to find the right look for your project. A key here is temperature, you'll want to know how hot it gets under your feet.
These are some of the ways to incorporate natural stone to your outdoor living space. No matter how you plan to use natural stone talk to your local supplier and installer to make sure you get it right the first time and can enjoy the outdoors!