Earlier this year we introduced The Saw Shop, which will focus on natural stone products for exterior applications. As we prepare for the warmer weather we asked several industry leaders to share their insight as to what we can expect when it comes to exterior design in 2020.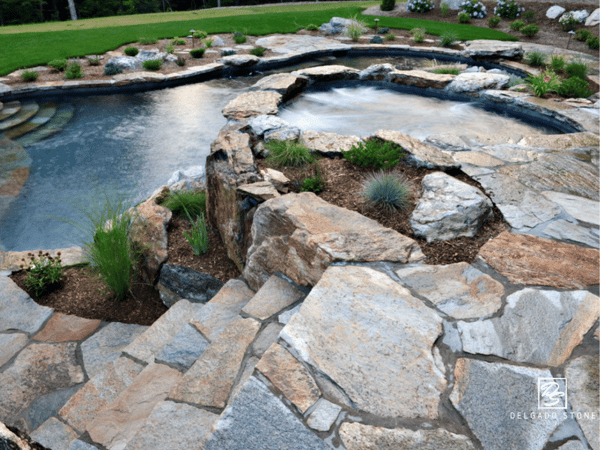 Natural Stone Pool Coping and Flagging (Colonial Tan & Spruce Mtn.)
Expert Insight: Design Trends for 2020
It can be challenging to keep up on what's trending so this year we reached out to some industry experts to get their take on what trends we can expect to see in 2020 and the near future:
1. Dana Nichols - Aux Architecture (Los Angeles, CA)
"We have designed a number of single family homes in Los Angeles that emphasize the indoor-outdoor lifestyle. A growing trend seems to be maximizing outdoor space, as lot sizes are increasingly constrained. For the home we designed in West Hollywood, we actually made an existing pool smaller, which makes the patio more livable". - @auxarchitecture
2. Tim Bakke Sr. - Director of Publishing at The Plan Collection
"Outdoor Spa: These will still include outdoor kitchens and dining rooms, but with busy schedules these days, we'll expect for more people to include calming elements in their design plans. The elements of these outdoor spaces could include anything from serene water features to rock/zen gardens to quiet meditation areas." - @plancollection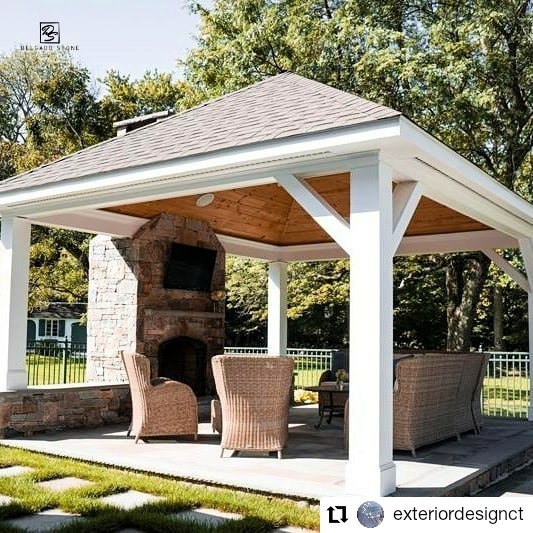 Pergola - Outdoor Living Space Featuring CT Blend by @exteriordesignct
3. Tony Hurley - Artistic Landscapes (Rowley, MA)
"Artistic Landscapes is finding many clients want a natural stone wall around a fire pit because the stone wall provides a sense of togetherness and the wall serves as additional seating."
4. Isara Ongwiseth - Lead Designer at FormLA Landscaping (Los Angeles, CA)
Sustainable Innovation Award (SIA) winning designer, Isara Ongwiseth, sees an emerging trend:

"Clients, particularly those in high-end, suburban neighborhoods, are looking to create community connection. By integrating features that spark conversation or simply bring homeowners into the front yard, a front garden can make connecting with neighbors feel easy and natural."

To facilitate this, Ongwiseth's designs include patios, edible gardens, and meandering trails in street-facing gardens.
5. Cristina Miguelez - Remodeling Specialist at Fixr
"I think the hottest trend in patios and landscaping right now is the
pergola. Pergolas are open-sided structures that typically have beams for a roof but can have enclosed roofing as well. Originally, they were made for growing vines across, but pergolas that have a polycarbonate top that blocks UV light as well as rain and snow being very in demand for outdoor kitchens.

By putting a pergola over your outdoor space, you increase the
usability of the space, define the area visually, and can add some
interesting detail to the area as a whole."
6. Jess Zavaglia - Zavaglia Associates (Larchmont, NY)
"Landscape designers are no longer just hired to plan gardens and green spaces with increasing frequency we are brought in to create outdoor living spaces, often with all of the comforts and amenities that their indoor counterparts have. Hardscaped patios that include outdoor kitchens and eating areas now include counter and bar spaces where families can entertain. The enjoyment of these spaces is further extended into cooler weather months by the addition of firepits and cozy living room-like areas. An inspired design will take into account the architecture of the home, the client's own personal tastes, as well as the unique attributes of the property to maximize the property's potential and enjoyment." - @zassocdesign
Download Our Catalog