The great writer Edna Ferber was once quoted as saying:
"We no longer build fireplaces for physical warmth, we build them for the warmth of the soul; we build them to dream by, to hope by, to home by".
We love seeing some of the stone fireplace designs created and executed by our customers and we hope a few of these help inspire you for your next fireplace design.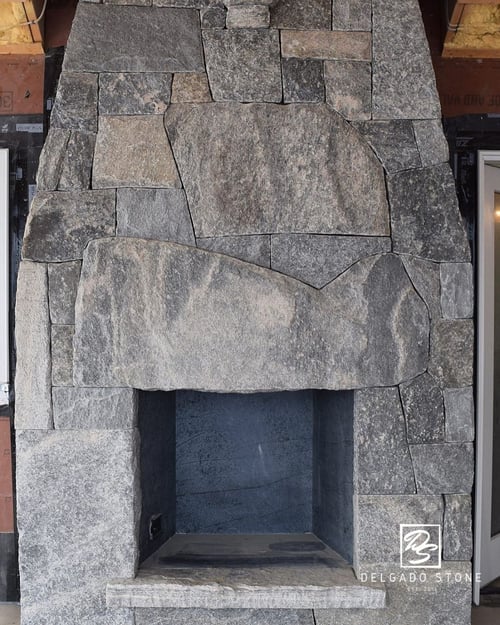 Aquidneck Landworks Custom Fireplace Featuring Colonial Grey & Liberty Hill
We could share 100 fireplaces that inspire us but in an effort to keep this article brief enough to maintain your interest we decided to keep it to five of them.
Inspirational Stone Fireplace Designs
1. A Unique Vision (Pictured Above)
The custom fireplace pictured above is the craftsmanship of Aquidneck Landworks (RI). This project called for the stone to be specific sizes so they could work and shape the stone on site to create what you see pictured here. A beautiful vision come to life through the project owner and the mason.
2. Pizza Oven & Fireplace Combination
Outdoor fireplaces and kitchens have been trending so it's no surprise to see this one make our list. The combination is the highlight of this new patio and features our Fieldstone Dark Ledge, Strip and Mosaic.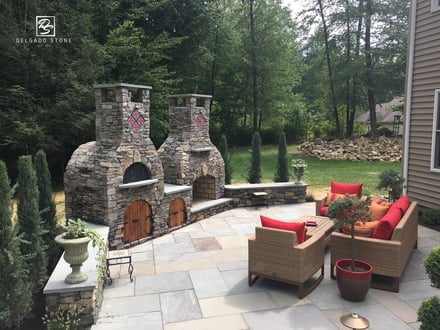 Work & Photo Credit: Outdoor Solutions Group
3. Poolside Fire Pit
We often discuss how a little stone can have a big impact on a project. We understand there are times when it might not make sense or be in the budget to do the entire project in stone but a just a little bit can go a long way. This poolside fire pit featuring our CT Blend Ledge is a perfect example. A little stone veneer on the exterior for some color and texture to make the project extra special.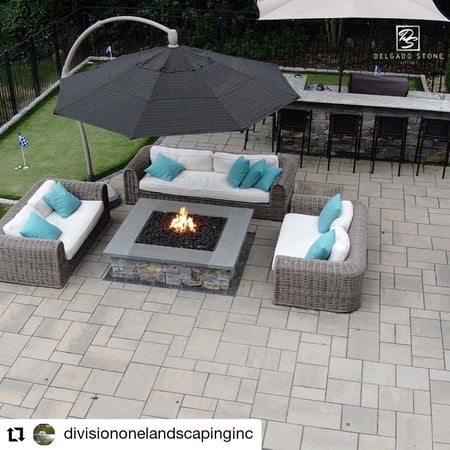 Work & Photo Credit: Division One Landscaping Inc (RI)
4. Modern Luxury in The Hamptons
We love the blend of Spruce Mtn. and Colonial Tan SqRec and Strip to create this modern pool house fireplace in Sag Harbor, NY. All four sides of the stone were cut on site so they fit perfectly together. Beautiful work being done on this project by KJL Contracting Inc (NY).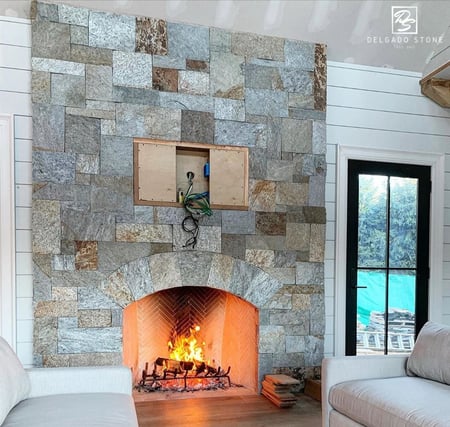 Work & Photo Credit: KJL Contracting Inc
5 & 6. Outdoor Living in Maine
When it comes to outdoor living these two fireplaces are truly inspirational. Whether it's an outdoor space to entertain guests or find some quiet time you can't go wrong with either of these.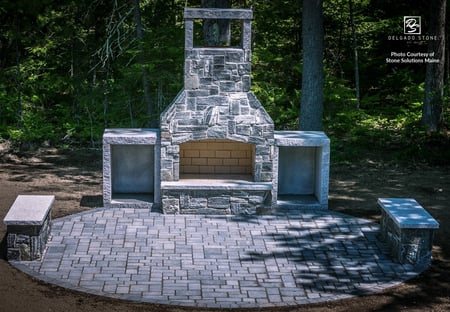 Work by Stone Solutions Maine (Photo: Lightwork Photography)
A combination of rustic and modern with our American Mist SqRec, Swenson Granite, and pavers from Gagne & Son. It looks like the perfect secluded space to escape the day-to-day stresses of life. Quality craftsmanship, quality products, and a great location make this one an inspiration for all of us. We love this one so much it was a featured project on our website in August. Read more about it here.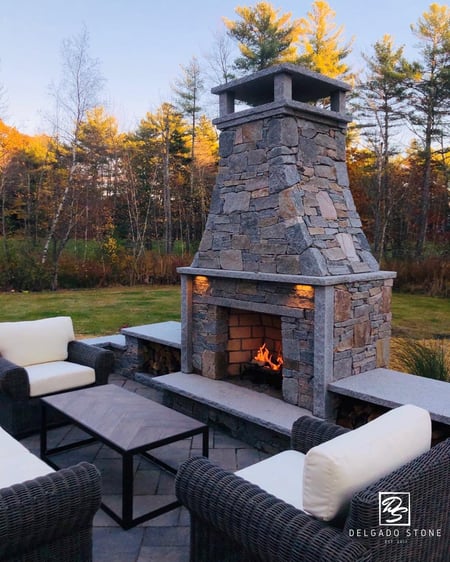 Work & Photo Credit: New England Landscapes Inc
The final picture was shared by New England Landscapes inc via their Instagram account (@nelandscapes). It features our CT Blend Ashlar with some square and rec mixed in. If you're looking for fireplace inspiration be sure to visit their website and you will find plenty of it.