There are several grey natural stone collections, but each has its own color variations, texture, and defining characteristics. American Mist features a dark grey with white lines, tan, and hints of green, and can be used for a variety of interior and exterior projects. It is available as thinstone veneer, flagstone, or steps, and can be used to construct other architectural products. Here are a few examples of projects that incorporated the American Mist collection to add a unique color scheme and look to each living space.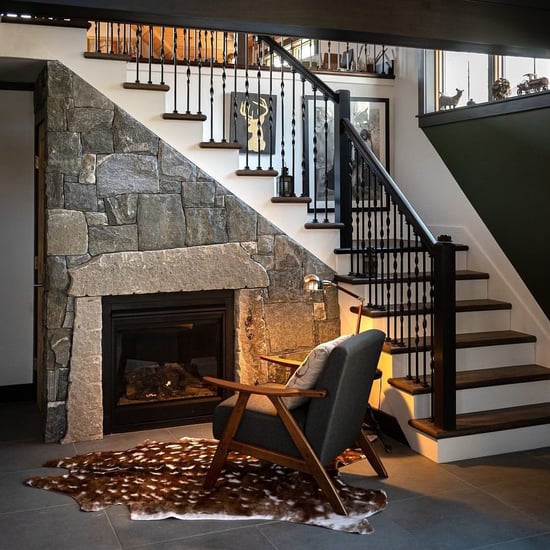 American Mist Roughly Squares & Rec supplied by Landcare Stratham Hill and Outdoor Living Supply.
The interior fireplace project above features American Mist Roughly Squares & Rectangles in a design by KS Hardscapes, which is framed by reclaimed granite. The color palette is on full display in this pattern, which showcases the face of the stone. While American Mist can contribute to many different styles, the dark grey pairs well with the rustic look and accents in the space, and enhances the light and dark color contrast.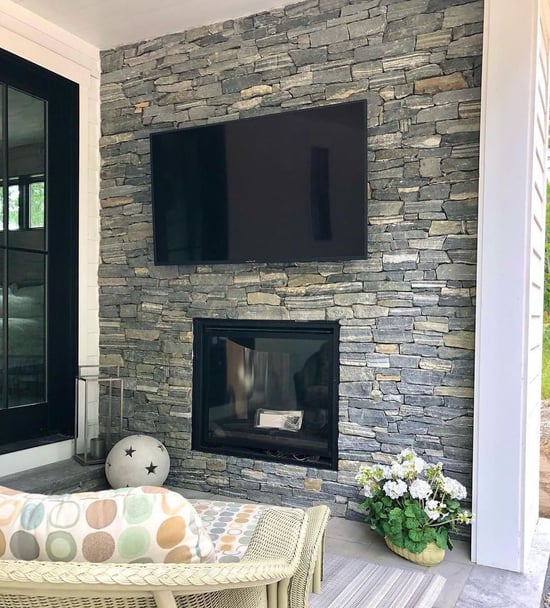 This American Mist Ledgestone wall creates a perfect indoor/outdoor lesiure space.
The American Mist project above is a multipurpose feature that turns a covered entry into a leisure space with a TV and fireplace, and a natural stone backdrop. The Ledgestone pattern is the inside cut of the stone and adds dimension to the color range, adding to the visual appeal for an accent wall. The seating area completes the setup, and creates a cozy, relaxing atmosphere to enjoy company, entertainment, and fresh air throughout most of the seasons since it is covered and partially enclosed.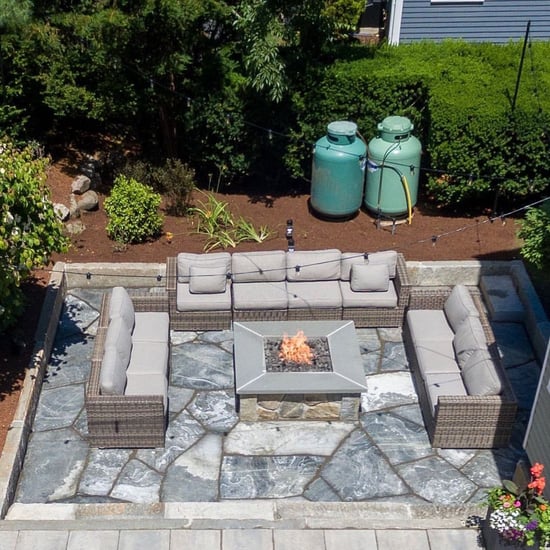 American Mist Flagstone, supplied by Stone Source and Stone Curators, enhances the firepit and outdoor living space.
The last photo (above) shows part of an incredible outdoor living project and landscape by the team at Redmond Design Group, where the American Mist Flagstone takes center stage around the firepit. The dark grey with white lines adds definition to the space, while also coordinating well with other materials used for the rest of the patio and throughout the landscape.
There are many natural stone options and colors to choose from, and each has its own attributes to personalize a space. The American Mist collection is a great fit for a variety of interior, exterior and landscape projects, and is sure to add a special touch to any space with different applications. To learn more about the ways you can incorporate American Mist and other natural stone collections into your home, download our ebook!