The Walkway Over The Hudson State Park was once a railroad bridge that connected Highland, NY and Poughkeepsie, NY. According to their website the bridge was built in 1889 to help carry freight across the Hudson River and after many years of service was converted to a New York State Historic Park in 2009. Each year the park welcomes over 500,000 visitors to majestic views of the Hudson Valley... and now some of our stone veneer!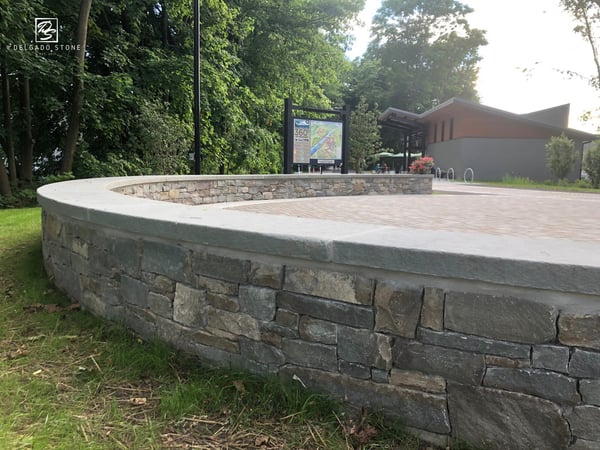 Fieldstone Dark Ashlar with bluestone cap at The Walkway Over The Hudson Park map
Full disclosure, we didn't know our stone was being used for this project until midway through when Pleasant Valley Stone, our Authorized Dealer, clued us in. The custom order called for our Fieldstone Dark Ashlar 3" thick with a sawn back. It's not your standard thinstone order, which is approximately 1" thick with a sawn back, and it was not a full bed order, which would have been approximately 3-5" thick and snapped.
Pleasant Valley Stone was also responsible for the bluestone caps (they did the fabrication) and additional materials needed for the project.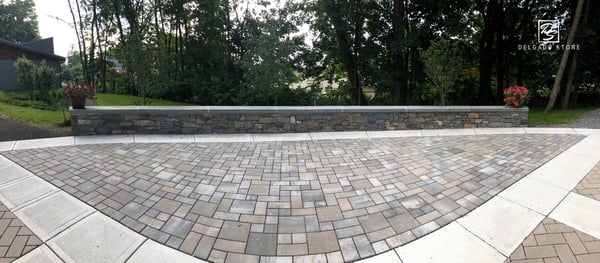 Panoramic picture of the stone wall, bluestone cap, and pavers
One of our favorite conversations is how a little stone can make a big difference and this is a perfect example. The project itself called for approximately 600 square and linear feet of stone. It's a small project but the use of real stone veneer from the region has a big impact on a historic state park.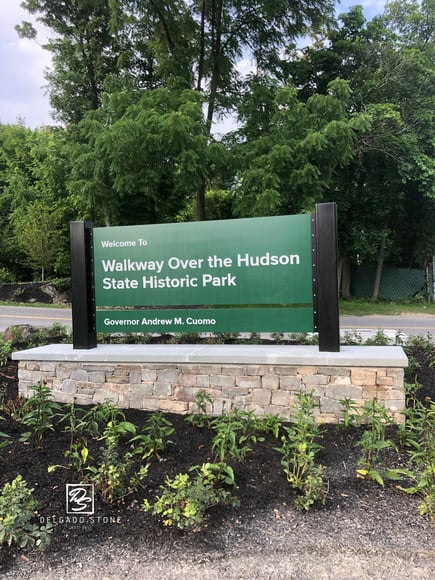 Fieldstone Dark Ashlar at the welcome sign
Project Information
Project: Walkway Over the Hudson State Historic Park (Poughkeepsie, NY)
Contractor: Siegrist Construction (Poughkeepsie, NY)
Authorized Dealer: Pleasant Valley Stone (Pleasant Valley, NY)
Product: Fieldstone Dark Ashlar - 3" thick, sawn back (Click Here for Fieldstone Dark CAD Files)
Click the Cover to Download Our Catalog!