There are more than 20 different Thinstone Veneer collections to choose from, each with its own color range, texture, and variations to ensure every project is unique! The Black Ash Collection is a great option to consider when looking for a dark grey granite; it has occasional white and tan undertones, adding some contrast to its smooth and modern look. The exterior design projects featured here incorporated this granite collection to create stunning and functional spaces.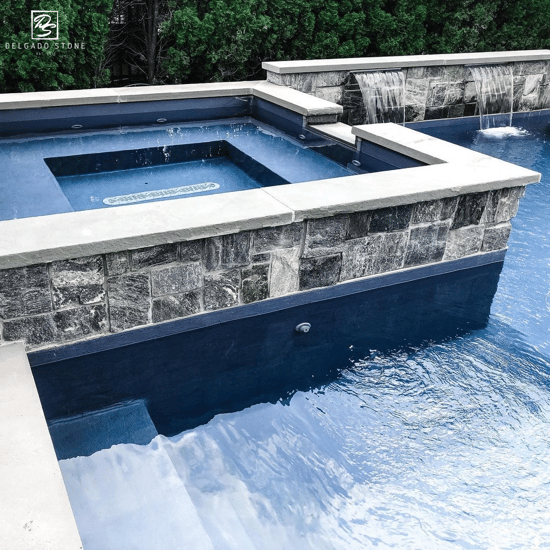 This spillover spa features Black Ash Roughly Square & Rectangles.
The pool and spa featured above is part of a larger home renovation, designed by New York homeowner, Michelle Foley. (You can read more about her Long Island home design project.) The addition of Black Ash to this pool and spa project not only creates a sleek and stylish appearance but also serves as a stunning backdrop that enhances the relaxing atmosphere, particularly with the beautiful waterfalls. The same stone was used in previous additions to this project including covering the home foundation and step risers in the front and back of the home effectively tying the whole property together.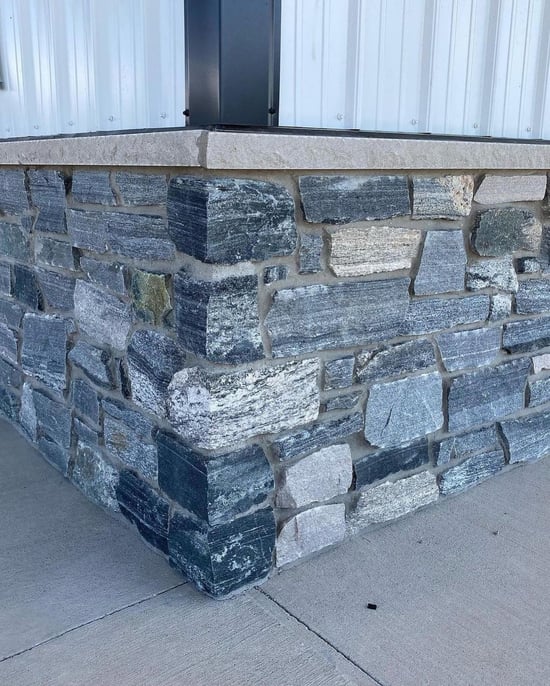 Full Bed Veneer in Black Ash enhances the foundation of this Midwest project.
The Black Ash collection adds color and style to the foundation of this new commercial building featured above, with the craftsmanship of Mid-West Masonry (and stone supplied by Halquist.) The Full Bed Veneer used on the exterior of the structure, and the pillars around the front, showcases the beauty of the color palette.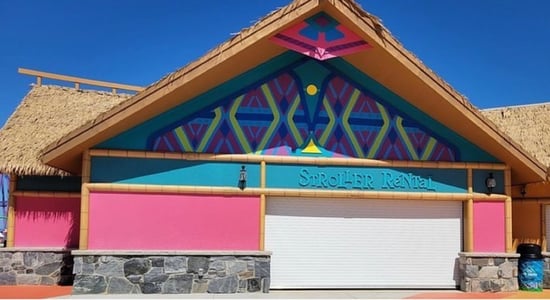 Black Ash looks stunning next to the warm, sunny colors of the Lost Island theme park building.
Another exterior design project featuring the Black Ash Collection that we are excited to share is from Lost Island Theme Park in Iowa. The bright colors of this summertime destination are accented by the dark grey tones in the Black Ash Collection (seen above in a custom pattern). They used this material (supplied by Midland Concrete Products) for the foundation of many of the main buildings. The tropical paradise created for family enjoyment boasts a design that is both practical and visually stunning, one of the many worthwhile attributes of natural stone as a building material.
Even for natural stone collections that are consistently one color, the variations and secondary colors add character and are part of the charm. Whether you are planning a residential or commercial natural stone project, you can learn more about other collections to consider when looking for a predominantly grey stone. Or, for more general natural stone inspiration, and ways to incorporate it into your next home improvement project, download our Natural Stone Residential Design Guide.