When you choose natural stone, you can be confident you are committing to a product that is durable, sustainable, and high quality, that will enhance any interior or exterior project. Selecting the right stone can feel like a project in itself, but we can help you simplify it in a few basic steps. With reliable resources, professional guidance, and preparation, you can make the process more efficient and less stressful, and ensure an outcome you will enjoy for years to come.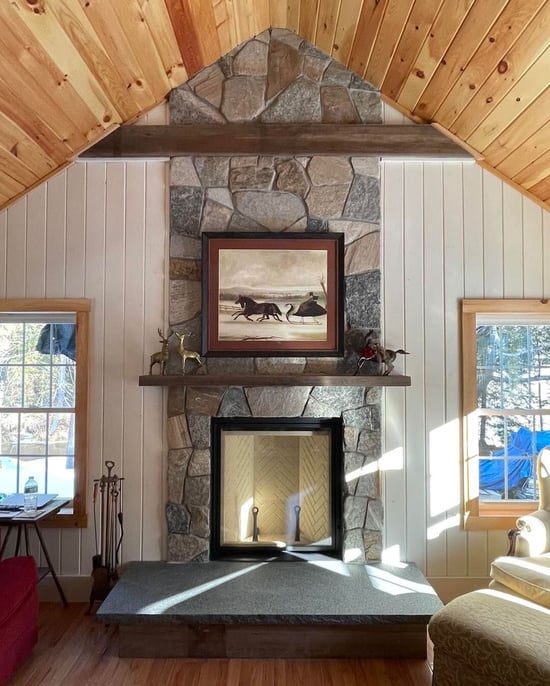 The Connecticut Blend Mosiac fireplace showcases the full color range of the collection.
Once you decide to use natural stone for your project, knowing what color range you like is a good place to start. Consider what other colors you have in your home, and what features you might want to draw attention to. You can coordinate with the colors you already have, add contrast, or incorporate a new color that complements existing features. For example, if you like grey, or want to add more of it into the space, start by looking at collections that are predominantly grey. You can do the same if you prefer tans; or, if you like a full range of color, you might start with a collection like Connecticut Blend that incorporates five different stones. As you can see in the project above by Kearley Masonry (NH) the color range helps tie different elements of the room together making it a good choice for adding color and variety. (Stone supplied by Gilbert Block.)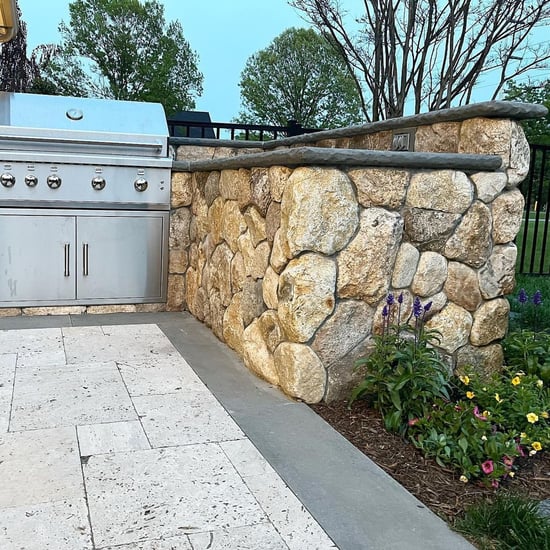 Old New England Rounds adds a classic look to this outdoor kitchen (and other elements of the exterior design.)
Considering which pattern you like is another important factor in the selection process. There are five patterns available for most natural stone collections: Mosaic, Roughly Squares & Rectangles, Strip, Ledgestone, and Ashlar. Each of them has a different shape and size range, and the pieces are made to fit together and create a distinctive look. The Ashlar is actually a combination of Strip, small Roughly Squares & Rectangle pieces, and Ledgestone, which is a great option if you like different aspects from each of the patterns. You can learn everything you need to know about the patterns here. Also, if you like the classic feel of the Rounds collections (featured in the project in the photo above by SK Complete Landscaping, with stone supplied by Nasco) you can explore those options here.
Because each natural stone collection has its own color range and variation, which is also affected by the selected pattern, seeing it in person once you know what color and pattern you like is the best way to decide on the right fit. Whether you do this by connecting with one of our Authorized Dealers or a member of our Sales Team, or purchasing samples through our Shopify store, seeing how the stone fits your space in person is a helpful way to confirm you're on point in the decision process. Taking advantage of professional expertise is also a good guide to making the best selection for your project.
As you familiarize yourself with the options, and what colors and pattern you like, you will be able to have better conversations with your mason, Authorized Dealers, and our Sales Team as you narrow down your options. Having the essential information and the support of industry professionals will help ensure you choose the best natural stone collection to fit your project. For more natural stone inspiration, download our catalog.