Last year brought an increase in people investing in their homes. The projects ranged from renovations they had put off, updating their living space due to COVID, purchasing a new home, or building their dream home. In 2021 we expect to see more people invest in their home and stone will be a big part of it.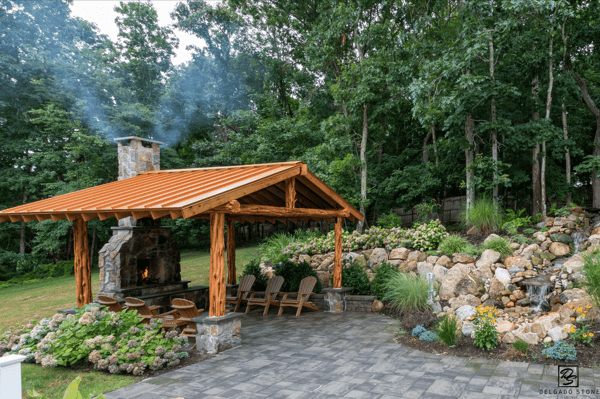 Outdoor Patio Area With Natural Stone Fireplace
As with any new year there are countless articles telling us what we can expect in the new year (Houzz offers 36 of them). This article will be slightly different in that we focus on the top natural stone trends for your home in 2021 based on our data and Authorized Dealers throughout the country.
7 Stone Design Trends for Your Home
1. Fireplace & Fire Pit: Starting with the most obvious, the fireplace. It's no secret stone fireplaces have been a trend for the past few years and it's going to continue in 2021. The size and location may change (inside or outside) but across the country we have seen this trend continue to grow. Whether it's utility or creativity, stone veneer fireplaces will be a mainstay.
2. Paths and Walkways: An excellent way to add curb appeal, the natural stone path and walkway trend will grow in 2021. There are many reasons this trend continues to pick up steam, two of them are sustainability and availability. Stamped concrete that looks like stone (or not) often breaks down more quickly and looks fake. The increased availability in real flagstone allows for the use of a natural stone product in a variety of colors and types of stone (granite, quartzite, sandstone, etc) to go with any project.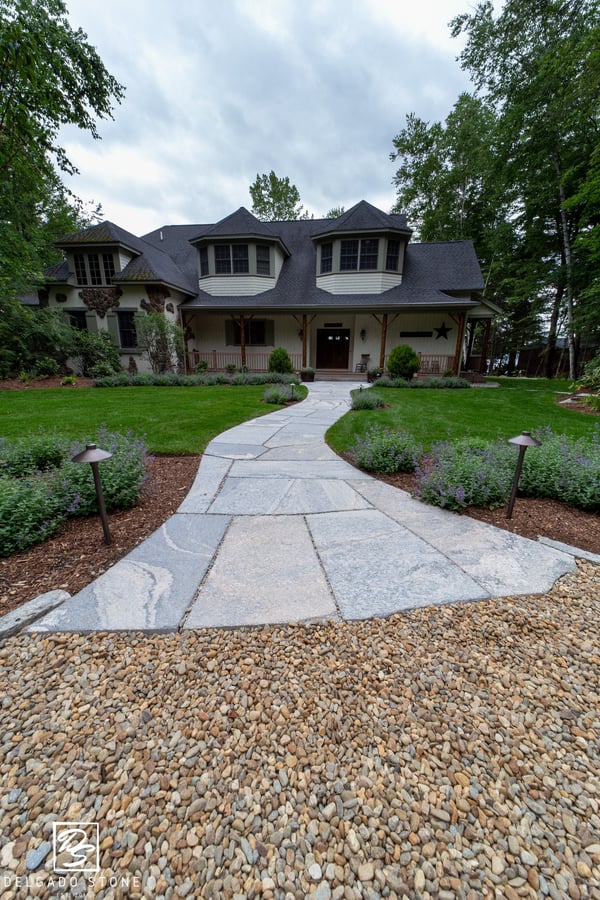 Liberty Hill Sawn Flagging Walkway
3. Patios: Outdoor living spaces, specifically patios, increased in popularity as a way to expand homes without heavy renovation costs. As COVID kept many people home for months at a time, this trend went from a want to a need for homeowners. Everyone wanted to be able to go outside safely. The demand for granite paving and flagstone patios has increased significantly and with countless projects spec'd for this material in 2021 we see this trend growing for several years.
4. Real Stone Veneer Trends Grow: The increase in homeowners selecting real stone veneer (v. manufactured) is not a surprise to us but we wanted to understand why it was happening at such a drastic rate. After a significant amount of research we found our answer: education. As homeowners have access to more information they have been able to learn more about the different types of stone veneer and their value. Homeowners building for long-term value, sustainability, and true beauty are finding natural stone to be the better option... they are even surprised to find it's not always more expensive as they have been led to believe.
5. Stone Walls Are Coming Back: Did they ever really go away? If you're from New England you have passed countless stone walls built as property markers or to control animals. Stone walls are timeless and although the main purpose may have shifted from property markers to retaining or decorative walls, they are coming back stronger than ever. A combination of beauty, sustainability, and durability are driving more people to choose stone for the walls at their home.
6. Stone Accents: When we discuss this category we are talking about window sills, hearthstones, backsplashes, risers, and any little "pop" of natural stone you can add to a project. Similar to a few of the trends above these can make your home extra special and are a great way to use a little stone.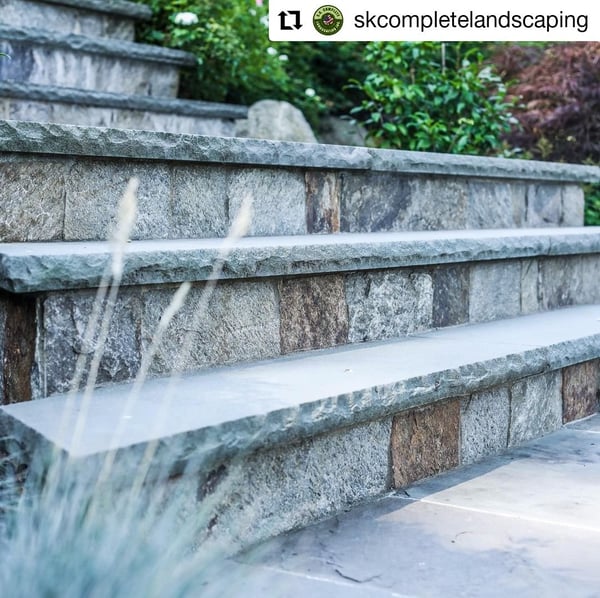 Nutmeg Ridge Natural Stone Risers
7. Real Stone Steps: Natural stone steps provide versatility and sustainability that is tough to match. The image above shows how a stone tread (with risers) can be used as steps and this landscape trends article features several different natural stone step options for any home design. Natural stone steps are a great way to add stone to your home that will stand the test of time, add a wow factor, and not break the bank. We expect to see this trend grow for years to come.
In the new year we expect to see more natural stone trends come on the scene but these have been building momentum and will steal the show in 2021. Which one is your favorite?